Personal Tunnel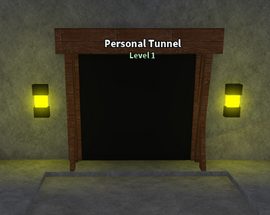 A personal underground tunnel that lets you mine-in privacy
ONLY ONE LEVEL
Overview
Edit
The Personal Tunnel is a 3x3 personal mine, extremely smaller than the 26x26 Public Mine. It's apart of the base but only has one level which costs 300 Uc or around 120R$. It is recommended that you avoid buying Uc for this, instead, you rent a Private Server (from ROBLOX) which is 100R$ per month - allowing unlimited use of the 26x26 Mine by yourself (or anyone you want to have access, including those who aren't your friend). Useful for farming Moonstone and Opal and/or refreshing your Marketplace.
The In Ruins state has the planks on the floor, while Level 1 does not have the planks on the floor, and has two lanterns either side of the Tunnel.
This price was previously Uc
Many players think it does not work as the upgrade hitbox of the personal tunnel blocks the area you can mine, but you need to use first person to mine it.
| Level | Cost | Effect |
| --- | --- | --- |
| In Ruins | - | The initial state of the Personal Tunnel. It is boarded up and can not be entered. |
| 1 | 300 | The Personal Tunnel can now be entered and you can mine in private. The surface is only 3x3 compared to the public mine's 26x26 surface area. |
Ad blocker interference detected!
Wikia is a free-to-use site that makes money from advertising. We have a modified experience for viewers using ad blockers

Wikia is not accessible if you've made further modifications. Remove the custom ad blocker rule(s) and the page will load as expected.